This New Year's Eve!! December 31st - Jan 1st
ReSolute, BlkMarket Membership, & Output: 24 hour event!!!
Avatism (live)
Cem & Rg
Cesare vs Disorder
Connie
Dahlia vs Lauren Ritter
DeWalta
DJ Tennis
DJ Three
Frank & Tony
Jeffrey Scott
Jimmy Edgar
Konrad Black
Matthew Dekay
Mike Khoury
NIL (Lou Velasco & George Chavez)
Ostrich
Quenum
Taimur & Fahad
Thugfucker
tINI vs Bill Patrick
Willie Graff
Last 2 additions on the line up: Bella Sarris and Nikola Baytala!
--
There are no more advanced tickets for sale! But there is no need to panic, as they will be available at the door the night/day of this event, based on capacity.
--
This will be a 24 hour party at Output and Panther Room, with a 24 hour liquor license & allowed re-entry. The above artist order is in no way the order of appearance. Set times will be released a few days prior to the event.
--------------------------------------------------------------------------------------------------
Gemini and Scorpio presents:
The Bootleggers' Ball
The contraband has been ordered, authorities paid off, and performers lined up for a New Year's Eve speakeasy ball in a 19th century church with soaring ceilings, stained glass windows, and a wraparound balcony. Expect the intimacy of a daring cabaret mixed with the intrigue of a vintage costumed ball, expansiveness of a warehouse dance party, excitement of live swing, a splash of fine cocktails, and just a dash of illicit adventure and unpredictable moments.
Dance till 1a to live big band swing by the 13-piece Hot Shim Sham Orchestra, followed by infectious electro-swing grooves by underground favorite DJ Barney Iller until late. Glamorous burlesque by Kat MonDieu and Apathy Angel, performed with the band. Daring aerial by Ivory Fox. Old-time strongman and sideshow stunts by Adam Realman. Hosted by dashing magician Nelson Lugo. Fabulous face and body painting by Painteresse Elysabeth. 2014 divinations by gifted psychics. Vintage photo booth. Absinthe and other mind-altering potions by The House of St Eve. Easy beginner swing dance class at 9:30p by Brooklyn Swings. Champagne flows free 9-10p. Dress code: depression glamour, evening ball on the Titanic, hobo formal, desperation derring-do. No casual attire.
Irondale Center
85 South Oxford, Brooklyn
9p-5a; $40-60, $30 after midnight, $20 after 2a
21 and over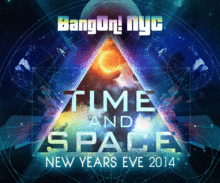 BangOn!NYC presents New Year's Eve 2014: TIME & SPACE
This New Year's Eve, BangOn!NYC will be taking over a full-block warehouse in East Williamsburg, featuring:

Time Stage:
9-10: Pete Fraser (Disco Knights)
10-11: Rambo Springsteen
11:00-12: Sleepy and Boo
12-1:30: Damian Lazarus
1:30-2:45 Bob Moses
2:45-4: Behrouz
4-5: The Golden Pony
5-6: Gino Santos

Space Stage:
9-10: The Magick Report
10-11: Wildlight
11-12: Sean Glass
12-1:30: Deniz Koyu
1:30-3: Polish Ambassador
3-4: Space Jesus
4-5: Special Guest TBA
5-6: Kellam

This year's theme "Time & Space" will be set inside a 60,000 sq ft multi-room arena with 2 main stages of electronic music, custom lighting, and stage design. Featuring illuminated art installations, circus performers flying overhead, Burning Man Art Cars (including Thunder Gumbo), themed lounge areas, food trucks, funky clothing vendors, onsite body painting by Kirkworx Dupuis and Bodyworx.me
(www.facebook.com/bodyworxdotme) plus much much more

Our midnight countdown will feature a rocket launch and aerial performance you won't want to miss...

Also featuring:
Team Kitty Koalition
Wildlight (Polish Ambassador Side Project) https://soundcloud.com/wildlight
Gino Santos https://soundcloud.com/gino-santos
Rambo Springsteen http://facebook.com/djrambospringsteen
The Magick Report https://soundcloud.com/the-magick-report
Kellam https://www.soundcloud.com/kellam
The Golden Pony https://soundcloud.com/thegoldenpony
Sean Glass https://soundcloud.com/seanglass
Pete Fraser (Disco Knights)
+Full Lineup TBA

699 Scholes St, at the corner of Onderonk Ave, Brooklyn, 11237.
December 31st, 2013
9pm-6am

Get Tickets Here
http://www.brownpapertickets.com/event/fb/496002

VIP Table reservations available and highly encouraged, please email kelly@bangon-nyc.com for more info.

We have a massive door and coat check team ready to expedite your entry. We recommend early arrival as there is generally a large rush from 10:30-12:30.

Brought to you by BangOn!NYC

ALL TICKET SALES ARE FINAL.

-------------------------------------------------
We'll prep the vibe with cocktails at 7pm.
Of course, before all the revelry, it's good to start with a solid foundation : Nourishment. At 8pm, we'll start things off with ...The LAST SUPPER of 2013.
A Four Course Dinner presented by BODY ACTUALIZED + INTUITIVE CATERING, soundtracked by DEEP TROUBLE.
1st Course • Onion Miso Flax Crackers w/ Truffled Beef Liver Pate
• Celery Walnut Shallot Pate (V)
2nd Course • Rosemary Juniper Bone Broth Soup
• Wakame Kelp Pumpkin Leek Miso (V)
3rd Course • Sauteed Hearty Greens w/ Leeks in a Coconut Vinaigrette w/
• Walnut Rye Winter Harvest Stuffing (V) OR
• Seared Rainbow Trout in a Coconut Reduction
4th Course • Almond Coconut Macaroon
• Light roast coffee will be served.
All ingredients sourced from Beyond Organic Farmers at Union Square Farmer's Market. All nuts and seeds are soaked. Bread is 100% sourdough rye. Wine will be available for purchase. (V) designates VEGAN option. 8pm–9:30pm
• • •
10pm • Dance vibrations begin with DEEP TROUBLE DJs.
12am • Champagne Toast !!!
Roll from there!
Guest DJ TOM NOBLE • 2 – 3:30AM
Late Dance Vibrations DEEP TROUBLE DJs • 3:30AM – ???
Visuals provided by ALICE COHEN + IVY MEADOWS
• $45 : Dinner + Dance
• $20 : Just the Dance
---------------------------
Tickets & Menu
dances of vice