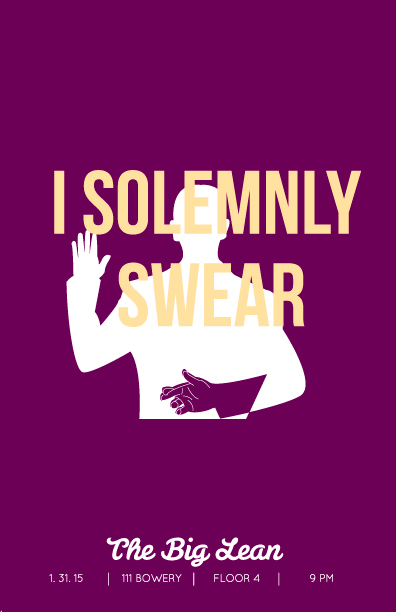 The Big Lean returns with a second helping of storytelling. In this installment all stories will pretain to PROMISES, kept, broken, to ourselves, our friends, moms, signifcant others. We encourage all participants to come ready with a true account of a time they solemnly swore. Or not so solemnly swore.
The story stage is open to all & all storytellers will be given seven minutes on stage.
Between story segments there will be opporunities to cool out and drink some beer.
A $10 suggested donation can be given at the door to allow us to continue telling stories in beautiful spaces
For questions/concerns contact:
kelsey@thebiglean.com
FAQs
How do I go about telling a story if I want to?
We ask all participants interested in telling a story to enter their name in our story receptacle. Names will be drawn randomly.
How long can my story be?
In order to ensure as many people as possible get to share their stories, we allow each participant seven minutes maximum.
A bell/small animal sound will go off and you will be asked to wrap up your story.
Will the storytelling go on all night?
We find the storytelling and the socializing to be of equal importance, so the storytelling will be broken into segments. Each segment will include 4-5 storytellers and in between segments participants are encouraged to make friends and have fun.