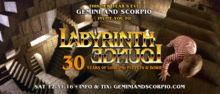 Saturday, 12/31, 9pm-4am, 21+ with ID (25+ suggested)
Gemini & Scorpio Loft & adjacent gallery - RSVP on site for Gowanus, BK address
Tix*: $40 Tier 1 / $50 Tier 2 / $60 Tier 3 & door, if available
$20 after 12:30am - door only, capacity allowing (see below for afterparty info)
Official site: http://www.geminiandscorpio.com/events.html
Tix: http://enterthelabyrinth.brownpapertickets.com
FB: https://www.facebook.com/events/1777944685793980
Social media: @gemini_scorpio #geminiandscorpio
Celebrating 30 years of puppets, goblins and Bowie's crotch with an intimate, immersive two-location event featuring live bands, unexpected performances, strange creatures and irresistible dance grooves.
With: Triad Brass (formerly The Human Jukebox Brass Band) - a brass melting pot of hip hop, jazz and pop. Special solo dance party set by sonic magician Sxip Shirey. All-vinyl all-60s dance floor: beat, garage, soul, mod, R&B, psyche pop and more, by DJ Ol' Stark, DJ Stylus and special guests. Vintage lounge sounds between and after bands by DJ Poodlecannon. Glittering burlesque by Nina LaVoix and Beelzebabe. Wild creature go go by Foxy Squire. Surprises and magic by Nelson Lugo. Weird word play by David F. Slone, Esq. Special mystery appearance by Nati Amos. 2016 tarot predictions by Marcy Currier. Eye candy by CJ. Custom Labyrinth art by James Vogel, Charlotte Gaspard, Charlie Kanev and more. Fabulous themed cocktails at the bar.
Dress code: Labyrinth, Bowie, vintage lounge & cocktail wear, glamorous NYE, gender & species fuckery. No casual wear admitted, but any form of dress-up accepted.
*Please note that this event is much smaller than our usual holiday gatherings, and we expect it to sell out fairly quickly. We had to alter our original plans after the Oakland warehouse fire, and hope to bring you our full vision of the Labyrinth event sometime in 2017. We thank you for your support in making it happen -- your ticket purchases are funding current and future art for the event. All ticket tiers offer the same access; please support at the level you can afford.
In addition to this event, our sexy sister brand, House of Scorpio, is hosting a late-night/early-morning makeout & cuddle party, with breakfast.
Details & rules: http://www.houseofscorpio.com/events.html
FB: https://www.facebook.com/events/1533130223368713
geminiandscorpio.com/events.html
enterthelabyrinth.brownpapertickets.com