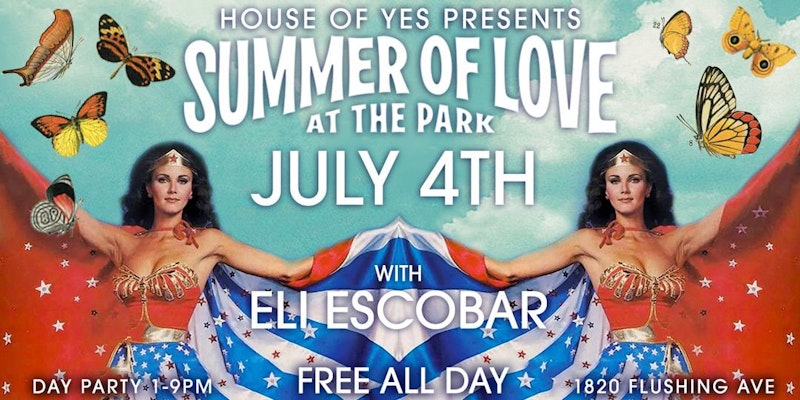 Hot meat, dirty dancing and delicious chillness.
We're headed to the park for a FREE July 4th BBQ Extravaganza!
FREE all day with RSVP! $10 at the door without
Enjoy the sun and sunset, move your body and open your heart in the open air as we give you dancetastic music, circus spectacle performances, shaded lounges, day drinking, sculptures and play spaces, interactive art, live painting, Mama's Bazaar artison market, delicious edible options for all palates and a good ol' fashioned BBQ!
::: Music :::
::: Costumes skip the line! :::
Red, white, blue. AMERICA REALNESS TO THE MAX! Patriotic AF. Stars. Stripes. Founding Fathers. 'Merica Mothers. USA Today. USA forever.
1820 Flushing Avenue
Jefferson L Stop
1PM-9PM
21+ | Children under 12 welcome with an adult
Summer of Love At The Park is a new summer party series from House of Yes! We bring big day-party vibes of shineshine and brightness into wide open spaces for your fresh-air pleasure. Join us in our very own park just *3 blocks away* from our HOY home!
houseofys.org/LOVE
---
Behave with beauty, connect with intention.
We are obsessed with CONSENT.
Always ASK before touching anyone in our events.
Anyone who cannot follow this simple rule will be escorted to the sidewalk.
::::::: Community and Accessibility :::::::
This is a space for everyone to feel welcome and loved. Racism, sexism, ableism, ageism, homophobia, transphobia, xenophobia will not be tolerated at our House. All entrances and spaces within the venue are single-level and handicap accessible. There are stairs leading to the upper portions of the stage, for those who wish to dance in the spotlight. Gender neutral bathrooms are easily located in the main room.