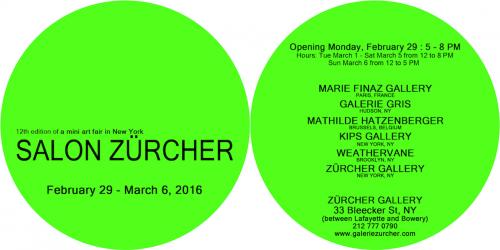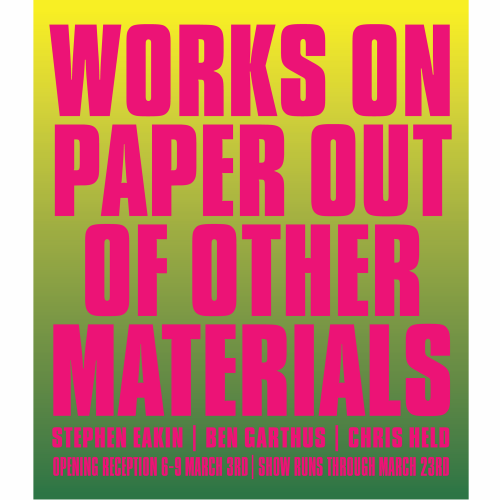 The Armory Show 2014: Armory Arts Week LOWER EAST SIDE DAY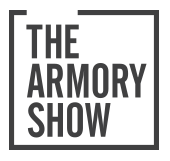 Whitebox Art Center Hosts
The Armory Show 2014: Armory Arts Week LOWER EAST SIDE DAY
Sunday, March 9th | 11am to 6pm
RSVP
to press@whiteboxny.org
Link to
The Armory Arts Week
TIME::CODE
Video Art from the Present to the Past into the Future
On view February 23rd to March 28th 2014
Link to
exhibition and press release
Oreet Ashery | Dara Birnbaum | Alina and Jeff Bliumis | Robert Boyd
Hans Breder | Tania Candiani | Stefano Cagol | Gordon Cheung | Jaime Davidovich
Braco Dimitrijevic | Adolfo Doring | Dieter Froese | Gary Hill | Ferrán Martín
Mary Mattingly | Jonas Mekas | Yucef Merhi | Igor Molochevski | Iván Navarro
Damian Ontiveros | Dennis Oppenheim | Jean-Gabriel Périot | Larissa Sansour
Arleen Schloss | Carolee Schneemann | Kiki Seror | Michael Snow | S&P Stanikas
Javier Téllez | The Blue Noses | Wojtek Ulrich | Roi Vaara | Helena von Karkkainen
Ai Weiwei | Sislej Xhafa
TIME:CODE is an exhibition of video art selected from Whitebox Art Center's archive. The title and curatorial framework metaphorically weave technical nomenclature for video and film synchronization and the experimental film directed by Mike Figgis. The former is addressed in the historical arc of the exhibition consisting of important works by early video pioneers, including Michael Snow, Jonas Mekas, Carolee Schneemann, Gary Hill, Dieter Froese, Dara Birnbaum, Dennis Oppenheim and Jaime Davidovich, shown alongside a succeeding generation of video artists including Ai Weiwei, Gordon Cheung, Sislej Xhafa and others who have engaged the medium as innovatively as their predecessors.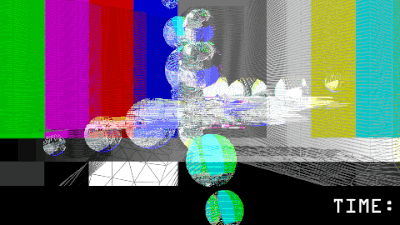 _______________________________________________
ARMORY ARTS WEEK: EFA OPEN HOUSE 2016
OPEN STUDIOS, EXHIBITIONS, PRINTMAKING WORKSHOP
FREE, no RSVP required 323 W. 39th Street (btwn 8th & 9th Ave.)

As part of Armory Arts Week, we invite you to view over 50 artists working in open studios, visit the EFA Project Space, and take a tour of the EFA Robert Blackburn Printmaking Workshop on Tuesday, March 1st from 5:00 - 9:00 pm. EFA Center is located at 323 West 39th Street, between 8th and 9th avenues. EFA Studio Member Artists work in a wide range of media and artistic sensibilities, creating a vibrant and diverse community of peers under one roof. Artists on floors 3 - 10 will welcome guests to explore and interact with their artwork.
__________________________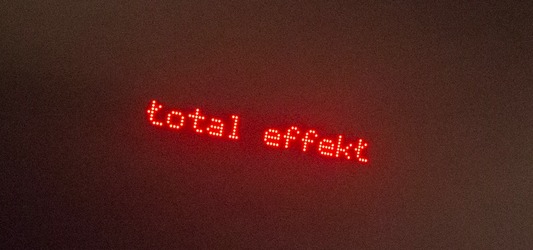 Closing Reception and Magazine Launch - Total Effekt: Living Magazine
March 3, 2016
6-8pm
FREE
Artist collective Total Effekt will be working on Living Magazine as part of Recess's signature program, Session. Session invites artists to use Recess's public space as studio, exhibition venue, and grounds for experimentation. Throughout their Session, Total Effekt will produce a lifestyle magazine that reflects on contemporary city life and modes of feeling at home and at ease in one's environment.
___________________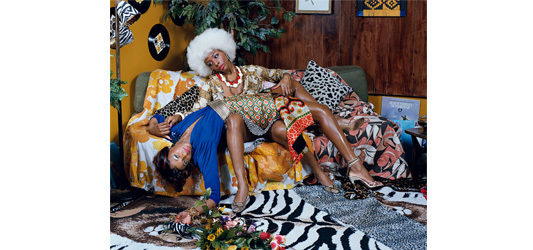 Brunch at Aperture Foundation / Muse: Mickalene Thomas Photographs
March 5, 2-16
10-12pm
@ Aperture Foundation
Map
Join us for coffee and pastries to celebrate the exhibition, Muse: Mickalene Thomas Photographs at Aperture's gallery in Chelsea. Mickalene Thomas, known for her large-scale, multi-textured, and rhinestone-encrusted paintings of domestic interiors and portraits, has also identified the photographic image as a defining touchstone for her practice.
_________________________________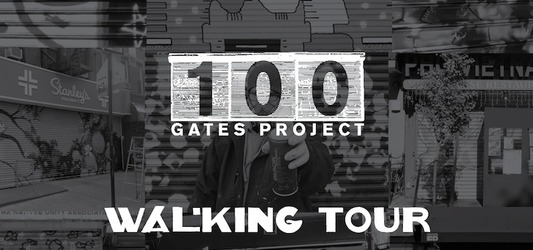 100 GATES Project Walking Tour
March 6, 2016
6pm
The 100 GATES Project is canvassing New York's Lower East Side in public art by connecting local artists with businesses to install original murals on the roll down security gates located on the exterior of businesses. Take a free tour through the LES to view these works of art, created by notable names such as Shantell Martin, FAUST and New Yorker cartoonist, Marcellus Hall, by meeting at the LES Visitor Center on Sunday, March 6th at 6pm. Enjoy art on the LES all day that Sunday with galleries open from 12-6pm and 'LES Art Nosh' a day full of individual gallery receptions.
____________________________________
the following below is via
artnews.com
The Armory Show
March 3–6
Tried and true, the Armory Show once again ranks as the largest event in this week's program, featuring 200-plus galleries across Pier 92 and Pier 94 along the Hudson River. As usual, the former will exhibit modern work and the latter contemporary. What's new? Its "Armory Focus," which highlights a different geographical region each year (this is year seven), will turn its attention to Africa. A standard adult ticket is $45.
Hours and complete ticket information can be found
here.
ADAA Art Show
March 2-6.
The Art Dealers Association of America Art Show will keep it's stalwart format, showcasing a curated collection of works from 72 private galleries and dealers. Among the artists on offer are Rebecca Horn (presented by Sean Kelly Gallery), Beauford Delancey (Michael Rosenfield Gallery), and Jim Shaw (Metro Pictures). The fair will once again be at the Park Avenue Armory at East 67th Street. Standard adult ticket: $25.
Hours and tickets
Independent New York
March 3-6
Having left its longtime
location
in the old Dia building on West 22nd Street, Independent will inaugurate a new space in Tribeca, featuring work from 40 international galleries and not-for-profits. The address: 50 Varick Street. Standard adult ticket: $25.
Hours and tickets
Pulse New York
March 3-6.
For the 11th consecutive year, Pulse New York will set up shop at the Metropolitan Pavilion in Chelsea, a short cab ride away from the Armory Show piers. A full list of the exhibitors can be found
here
. Standard adult ticket: $25
Hours and tickets
VOLTA NY
March 2–6
VOLTA NY, an affiliate of the Armory Show, focuses on contemporary solo artist projects of international domain. It is located on Pier 90, and there is VIP reciprocity with, and a shuttle to and from, the Armory. You can get into VOLTA free during its public vernissage on March 2, from 8 to 10 p.m. Standard adult ticket: $25.
Hours and tickets
Scope
March 3–6
Scope, located at 639 West 46th Street, will showcase work from 60 international galleries. This is the second year Scope will feature, in its words, a "critically-acclaimed open-plan exhibition space…with galleries flow[ing] organically into one another, creating curatorial narratives that encompass the entire show." Standard adult ticket: $35
Hours and tickets
Art on Paper
March 3–6
True to its name, this fair focuses on works on paper. Now in its second year, the fair is touting increased gallery participation and new public installations. It will take place on Pier 36 in Manhattan. Standard adult ticket: $25.
Hours and tickets
Clio Art Fair
March 3–6
The Clio Art Fair styles itself as a counterbalance to Armory Week, showcasing work exclusively from independent artists, sans galleries. The fair is free to the public March 4-6. It is located at 508 West 26th Street in Manhattan.
Hours
Moving Image New York
March 3–6
Moving Image New York is the only fair focusing on solely video-based work. A list of the artists and exhibitors can be found
here
. It is located in the Tunnel Building, at 11th Avenue and 27th Street. The fair is free.
Hours
New York City Art Fair
March 3–6
The New York City Art Fair, now in it's fifth year, features exclusively Asian contemporary art. This season it's highlighting Japanese emerging artists, and the fair's five participating galleries will showcase work on this theme. The New York City Art Fair is located at Hpgrp Gallery New York, 434 Greenwich Street, in Tribeca. The fair is free.
Hours
Salon Zürcher New York
February 29–March 6
The modestly scaled Salon Zürcher will include six participating galleries, including Zürcher itself. The others are Marie Finaz Gallery (Paris), Galerie Gris (Hudson, New York) Mathilde Hatzenberger (Brussels), Kips Gallery (New York), Weathervane (Brooklyn). Opening night, February 29, will include feature a performance by Bonnie Tchien Hwen-Ying at 6:30 p.m. The gallery is located at 33 Bleecker Street in Manhattan. Admission is free.
Hours
SPRING/BREAK Art Show
March 1–7
Now in its fifth year, SPRING/BREAK Art Show, which features projects by curators, rather than galleries, will explore more than a hundred curators' interpretations of the theme "⌘COPY⌘PASTE" through the work of 600-plus artists. The fair is located in the United States Post Office building at 421 8th Avenue in Manhattan.
Standard adult ticket: $15
Hours and tickets